Discover more from Tiny Revolutions
A monthly dispatch of candid writing and links about becoming who you are. Always: inspiration, encouragement, possibility. Never: bullshit.
Over 3,000 subscribers
Tiny Revolutions №40: Why is It So Hard to Ask for Help?
sending out an 🆘
Hi, I'm Sara, and this is Tiny Revolutions, a weekly dispatch of personal writing and links about the art of becoming who you are. Reply anytime, I love to hear from you.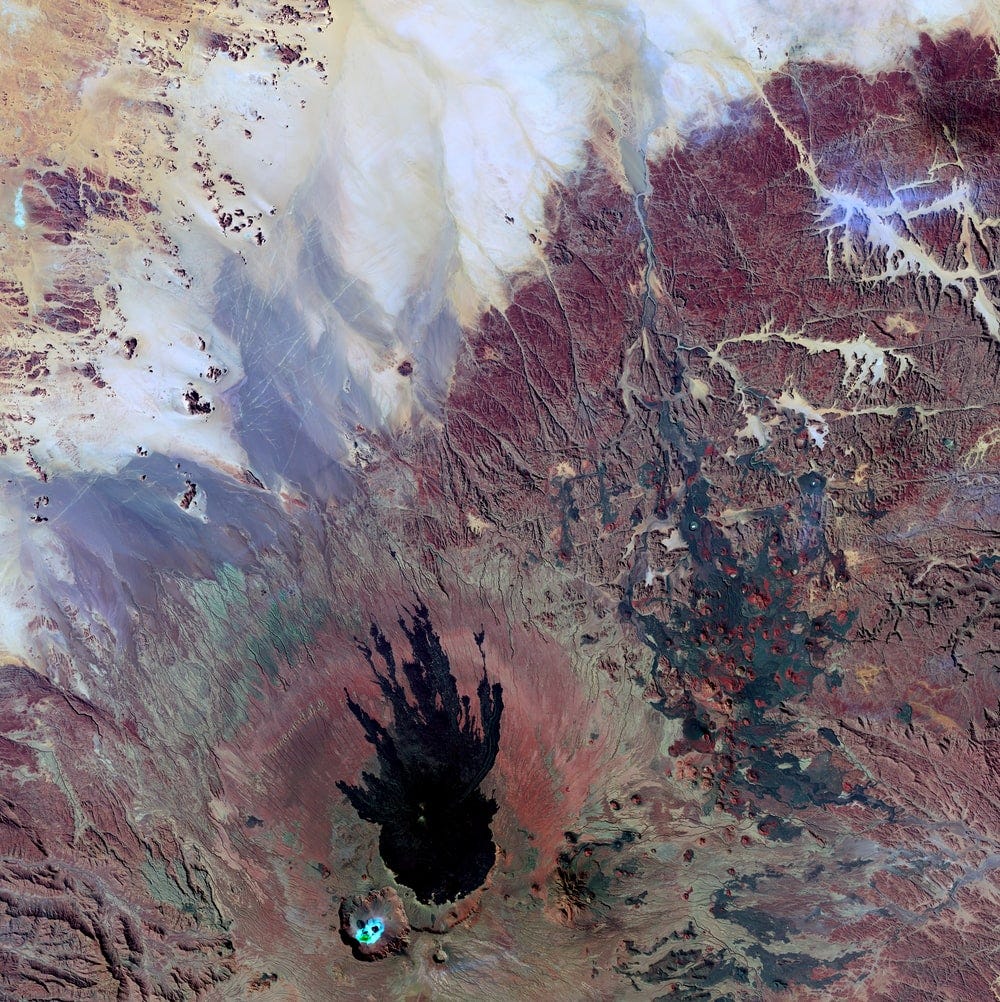 A volcanic landscape in the Tibesti Mountains of Chad. I picked this because it kind of looks like a hand in the middle. Maybe a helping one. Image courtesy
USGS
.

A couple of weeks ago I wrote about the power of communities, and how the ones I belong to have been instrumental to my sanity during this never-ending catastrophe of a year. As I said then, the great thing about belonging to communities is that "it's like expanding your own brain by harnessing the brains of others — and getting inspiration, commiseration, and encouragement in the process."
Since I wrote that, I've been thinking a lot about how, while I do get a lot of passive help from learning from and hearing about the experiences of other people, it is pretty rare for me to ask for help directly.
Which, the more I think about it, is just dumb.
Because people like to help other people. There's tons of research about this: random acts of kindness have been found to raise your dopamine levels and improve your mood. Neuroscientists have discovered a link between generosity and happiness. Giving is good for your health in so many ways.
And yet even when we're aware of this, it can be so difficult to make ourselves vulnerable by asking for something we need. We're afraid of looking and/or feeling stupid or weak or needy. We don't want to put anyone out. We're afraid of being rejected. We're afraid that if someone goes out on a limb for us, we'll owe them, and we don't like to owe people things.
So we don't ask for help and then the thing we need help with gets worse. The problems don't get solved. The tasks don't get completed. The bills don't get paid. Or whatever. There are lots of ways this can play out, but the consequences always rear their head somehow, and it's not usually real fun when they show up.
I'm working on getting better about asking people for help when I need it, which is both terrifying and fun. I need a lot of things! And I've always worried there were too many of them, so I've overcompensated by keeping my needs as minimal as possible, which, again, just seems dumb to me the more I think about it. There's nothing wrong with being needy. Everyone has needs — some people are just better than others at getting their needs met. I'm trying to become one of those people.
---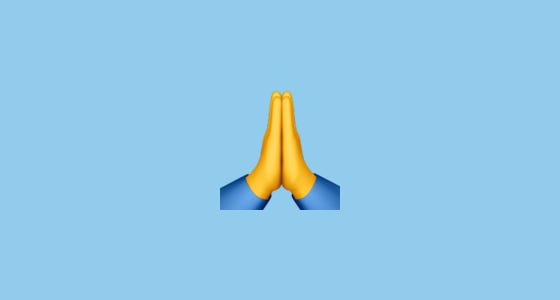 Speaking of which, I want to ask for your help! I've been talking about starting a podcast for a while, but I keep procrastinating. I'm scared, to be honest. Excited but scared.
So my request to you is this: How does the idea I've outlined below sound to you? Would you listen? Do you like the title? Can you think of anyone who should be on it? Let me know what you think by replying to this email or leaving a comment.
New Podcast: Sara Goes Mental

Mental and emotional fitness is every bit as important as physical fitness, but there is nowhere near the amount of information about it as there is for improving your body. And furthermore, there's still a major stigma attached to mental health. Part of the problem is that while you can see what an athlete in peak condition looks and performs like, you can't see inside the brain of someone who is mentally healthy. 

This podcast will be a series of short interviews with successful entrepreneurs, freelancers, and creative types who have done serious work on their mental game. We'll talk about how they got into it, how they know it's working, and the practices they swear by.

Questions I'll ask:

How did you get interested in mental and emotional health?

Was there a lightbulb moment for you when you realized you had to make this work a priority?

What is the most important tool or practice in your arsenal?

What were you like before you started doing this work and what are you like after?

How do you know it's working?
Phew, OK, that was kind of hard. But I'm excited to see what y'all come back with.
On to a few things that have helped me lately.
---
This is some quality help right here.
---
Following this retired British gardener on Twitter helps me smile in the midst of all manner of bad news.
---
It helps me a lot to be grateful. Even when things are not as I want them to be.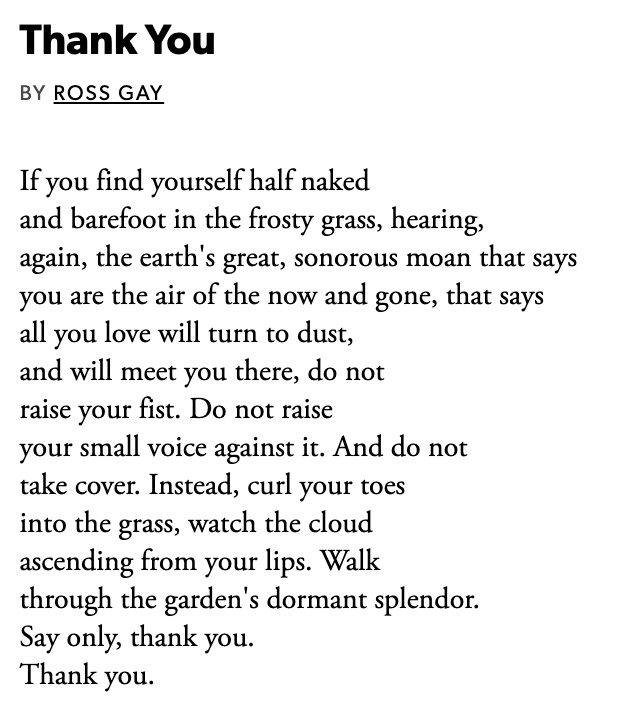 ---
And finally, it helps me to write to you every week. Thank you for reading.

---
A Tiny Assignment
Do you need some help? Ask for it.
😘
Sara
p.s. Send this to someone whose help you appreciate!